Background
As some of you might be aware, at least my friends are, I am a Howard Jones fan. Howard Jones, aka HoJo, is one of the main 80's artists that has influenced me on why I listen to dance music today.
As a part of my job at OGC, I had to create DVDs for work. To help me to complete this task, OGC bought me all the industry standard equipment and software. Personally, I like to learn the software and workflow processes myself, instead of being sent on a training course. I feel you learn the material a lot quicker and better because you work at your own pace, so what you learn stays with you. You also learn the shortcuts and the pitfalls whereas a training course might not necessarily teach you these.
With this in mind, I decided to create a Howard Jones "Best of" DVD. I choose this for a project for various reasons:
I had the "Best of" VHS video to hand (always helps I suppose),
I thought it would be a good idea if the DVD could be used as a competition piece on the official website,
I wanted the project to be of a certain scope and size.
Procedure
The first thing that needs to be done is to capture the VHS video in a digital format. Unfortunately, we are using an analog source; the VCR. To import this analog material into the computer, we use the Formac TV Studio Capture device, which connects the VCR and the computer via Firewire/IEEE 1394. Fortunately for me, the software that was provided with the device had settings for DVD PAL capturing. Each video song was individually captured at 720×576 (4:3) pixels at 25 frames per second (fps) in DV PAL format. Depending on the length of the song, each song took roughly 800MB to 1GB of hard disk space.
Using Apple QuickTime Pro, each song was then edited so there was a black fade in and out on each clip. Then (still using QuickTime Pro) each song was compressed into the MPEG2 format, which is used for consumer DVD videos. Each song took roughly 30 minutes to an hour to encode, again depending on the song's length. Due to the finite amount of space of a single-layer, single-sided DVD (4.4GB data storage), you have to work out beforehand roughly how much compression you have to apply to each song. This whole conversion process took roughly all weekend from start to finish and it took up about 17.5GB of hard disk space.
After a day's rest (trust me, you gonna need it), you have to think about the picture elements for your menus' within the DVD. Again, lucky for me, the new Piano Solos and Best Of 2003 albums had just been released, so under the scanner those covers went. Then using PhotoShop, colour correction and editing were applied and the menus were created.
Finishing line
Once you have all your media assets ready, it is time to import them into your DVD creation software, in this case, DVD Studio Pro. Then, it's just a simple task of putting it all together. After that a lot of testing and retesting and retesting some more, you burn your prototype DVD. Once you have tested your prototype DVD on various DVD players and computers, it's time to sort out the packaging and design.
Packaging and design
If you want your 'bootleg' DVD to look authentic as possible, you have to spare no expense with the packaging. For this project, I am using photographic paper sleeves and a standard Amaray white jewel DVD case. Using industry-standard DTP software Adobe InDesign, I designed the sleeve and DVD face label. Once that was complete, the project was finished.
Equipment Used
Hardware:
Apple PowerBook G4 1.5GHz SuperDrive (2GB RAM)
Lacie 200GB External Firewire HD
Formac TV Studio Capture device
VCR
Software:
Apple DVD Studio Pro 2
Apple QuickTime 6.1 Pro
Adobe PhotoShop CS
Total cost (at the time of writing): £4,200
Project status: Completed, 5th January 2005
Official DVD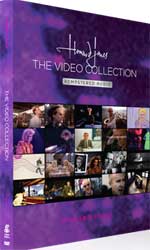 Howard Jones's record label dtox, has now officially released the Video Collection DVD.
The video collection has all of the music videos as well as the alternative versions and the audio for the videos has been remastered to 5.1 and DTS (the sound also comes in stereo). The DVD is region 0, so it will work on both PAL and NTSC systems.
I also get a small credit in the footnotes :)