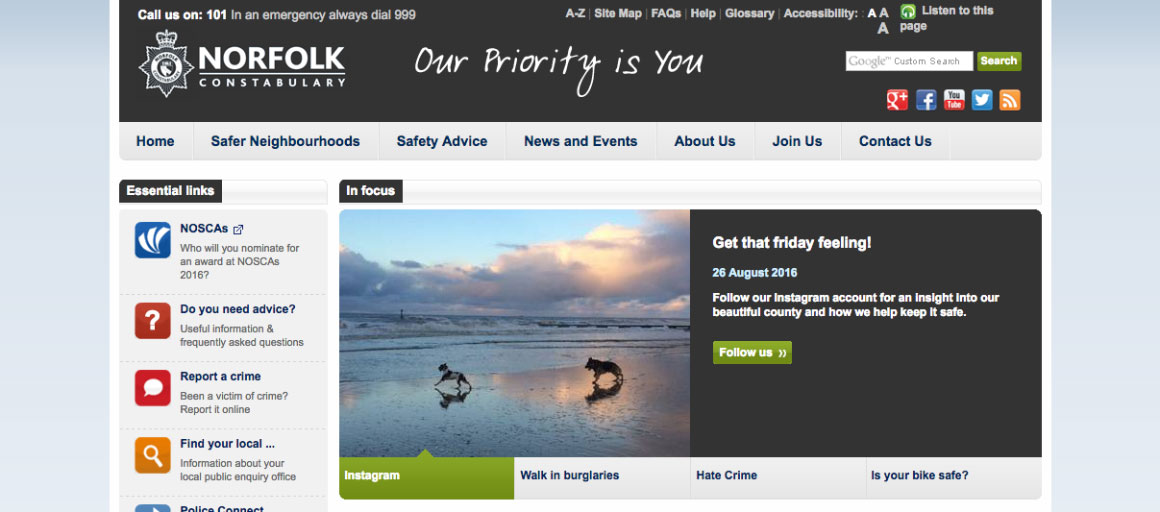 Norfolk Constabulary
I worked for Norfolk Constabulary for five years (2008 – 2013) as their web consultant. My main tasks were to modernise their web presence on the Internet by helping them design a new website and establish a social media presence.
Also during my time, I had various other tasks and responsibilities:
senior technical stakeholder and consultant in the redesign of the Norfolk Constabulary external websites
making sure that the new Norfolk Constabulary website conformed to web accessibility and web standards and law
sourcing a web hosting and backup solution
genesis and implementation of their social network presence (Twitter, Facebook, YouTube and Google+) and contribute towards their internal usage policy and social media strategy
complete redesign and redevelopment of the Norfolk Constabulary Intranet, upgrading it in both usability, user experience and appearance
provided various technical guidance for a variety of internal and external IT projects
designed and developed multiple internal and external HTML emails
designed various internal and external desktop publishing projects
trained staff members on a range of industry standard software and systems.
In 2011, Norfolk and Suffolk Constabulary started to collaborate to help save money for the taxpayer. For that process, it was decided that Suffolk's web presence should be on the same technology platform as Norfolk's, therefore reducing the web hosting costs. I was tasked:
to project manage the delivery of Suffolk Constabulary website based on Norfolk Constabulary's website design, working closely with staff, senior management and third party developers
to be temporary web manager for both Norfolk and Suffolk Constabularies for six months due to organisation restructuring.