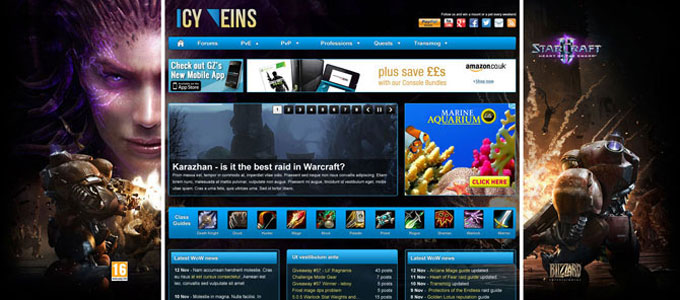 Icy Veins website redesign
The Icy Veins project I completed last year was a pleasure to work on so I was delighted when the webmasters of Icy Veins approached me again with regards to designing a new look for their website and forums.
Due to their massive increase in web traffic, the webmasters wanted a design that would accommodate a 'Site Takeover'. A Site Takeover is when adverts and background picture branding become the dominant presence on your website. Think of it as the Icy Veins homepage becoming your homepage for the day. Because Icy Veins is worked on by a two man team, full time, adverts are important on their website as it's a major source of income for them.
From my previous design work, they absolutely loved the idea of a news carousel/slider on the homepage and they wanted that function incorporated into the new design. Apart from that, the webmasters wanted to keep the existing functionality and structure the same. Time and resources were not available to them to reconstruct a totally new website; so they just opted for a facelift.
The webmasters wanted me to design a new:
homepage
article page for content
forums homepage
forums topic homepage
forums article page.
As well as designing a new look for the website, I also improved the usability of the website by making entities more organised and structured.
The webmasters were extremely happy with the work that I design for them. They felt that the new design gave their website the modern look they were after. Regrettably, Icy Veins have not fully implemented my design due to resources; they haven't had time as they are busy writing and updating guides. But from what they have implement so far, the feedback from the users has been very positive which was a pleasure to read and hear.
Testmonial
"When we first contacted Michael, he was an avid reader of our website and he accepted to help us a little with design and layout. Later, we hired him properly to improve the usability of our website and to make it easier to navigate. He did not disappoint us. Working with Michael has always been enjoyable and we would recommend him anytime."
Damien Thivolle, Co-founder and webmaster, icy-veins.com
©2013 Images are copyright Icy Veins. Used with permission.