Norfolk Constabulary was nominated for a recognised national award this year by the Institute of Internal Communication (IoIC) for the work they've done on MAST News, an internal (now external) video podcast. I attended this event with the team that produces the podcast as I work on the technical aspects project.
Background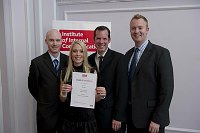 When I was asked to co-attend this year's IoIC Awards 2010 by my client Norfolk Constabulary, I was overjoyed. The IoIC Awards, which was known as the CiB Awards, is a yearly event whereby awards are given for recognition for outstanding work for internal communications.
Norfolk Constabulary was nominated in the Online News category for their internal video podcast 'MAST News'. MAST News is an internally produced podcast that delivers a mixture of good news stories covering the work of officers and staff. It wasn't until March 2010 that the MAST News went external via the Norfolk Constabulary website, YouTube and Apple iTunes Store.
My initial role on the project was to deliver the MAST News on the Constabulary's Intranet within a certain bandwidth limit, whilst keeping the quality and size of the video good enough so it gives a pleasurable experience to all.
Unfortunately, we didn't win, but coming runner up in a recognised national award is a great achievement for the team.
Maybe next time…